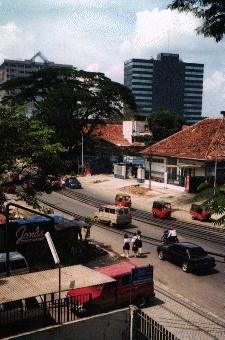 This is a scene in the center of Jakarta, just west of Jalan Thamrin. The center of the city has rows and rows of high-rises, but just next door there are regular neighborhoods with red-tiled roofs, warungs, and neighborhood mosques. Notice the children going to school. The little orange three-wheeled vehicle is called a "bajaj". They have a small gasoline engine. It's an inexpensive way to get around.
This is Jalan Thamrin, the main route through the heart of Jakarta. Traffic in this photo is surprisingly light.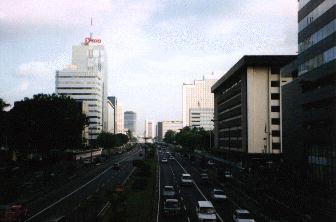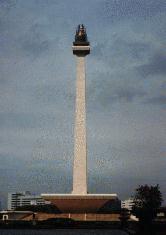 The National Monument or MONAS is right in the center of the city. It's in the middle of a big square with fountains and lawns. The Merdeka Palace is on the north side of the square, the National Museum is on the west, and Gambir railway station and the Istiqlal Mosque are on the east.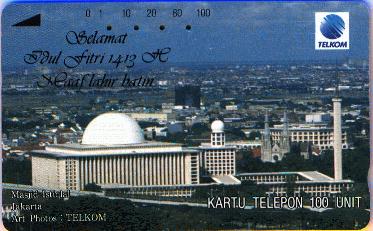 The Istiqlal Mosque was built by Sukarno back in the early 60s. It's certainly the largest Mosque in Indonesia, and one of the largest in the world. This picture is from a telephone card wishing you "Happy Ramadan".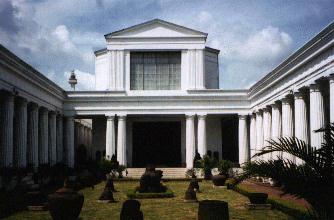 Just to the west is the National Museum. This is a view of the central courtyard, which is full of sculptures from many different periods of Indonesia's ancient history. You can see MONAS just over the roof to the left.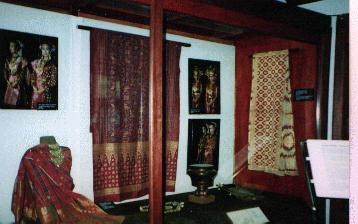 The National Museum has beautiful examples of all sorts of arts and handicrafts, too. This cloth was used for ceremonies in a Sultan's court. It is woven with real gold threads.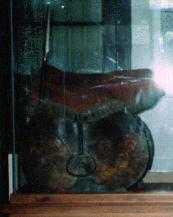 This is the saddle and lance of Prince Diponegoro, in the National Museum. Diponegoro, a prince of the Hamengkubuwono house of Yogya, led a brave resistance against the Dutch in 1825-1830. M.C. Ricklefs describes him this way: "As a senior prince he had access to the aristocracy, as a mystic to the religious community, and as a rural dweller to the masses of the countryside." Today all sorts of things from streets to universities are named after him.
Tired after all that? Stop off at a warung for a bite to eat.
Try these links to find out more about Jakarta:

Liono Setiowijoso's Jakarta Page
Jakarta Post (in English)
History of Jakarta
Jakarta Streets
http://seagames.wasantara.net.id/jakarta.htm
Government of DKI Jakarta (in Indonesian)