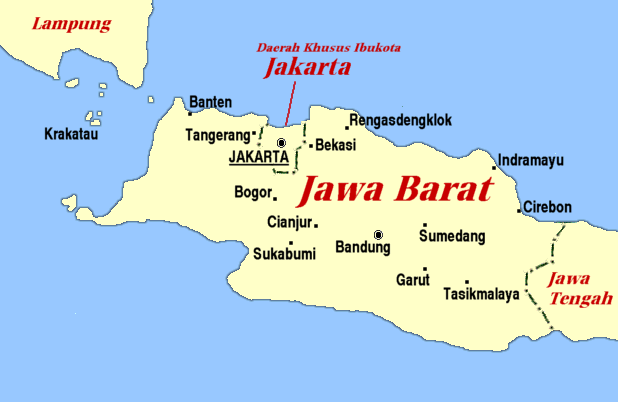 The people of westernmost Java are the Sundanese. Today the large cities attract people from all over Indonesia.
Banten was the center of a trading empire in the 1600s, originally subject to the Hindu state of Pajajaran, later an independent power under an Islamic sultan. Banten fell under Dutch/VOC control in 1683.
Jakarta is the capital of Indonesia today. It was originally Sunda Kelapa, then Jayakerta when it belonged to Banten, then Batavia under the Dutch after 1619. As Batavia it was headquarters of the VOC or Dutch East India Company, then the capital of the Netherlands East Indies. As the capital of the new Republic it was renamed Jakarta in 1945. In 1957 the capital district was raised to provincial status as the Daerah Khusus Ibukota Jakarta (Special Capital District).
The mixed people who live around Jakarta today are sometimes called Betawi. The greater Jakarta metro is sometimes called Jabotabek (a combination of Jakarta, Bogor, Tangerang, and Bekasi).
Bogor was originally founded as Buitenzorg by the Dutch in 1745. It is famous for its botanical gardens.
Bandung was built up by the Dutch in the 1800s as the main city in the Priangan or Parahiyangan district, an area rich with coffee, tea, fruits and other products. In the 20th century, Bandung is a center for high technology and research. In 1955, the Asia-Afrika conference, one of the first meetings of non-aligned countries, was held here.
Cirebon was founded (traditionally by Sunan Gunungjati) in 1478. It was subject to Banten, and later to Mataram, before coming under Dutch control.