January 1 Malaysia is seated in the U.N. Security Council.
January 6 Twenty-one publications that had supported the Badan Pendukung Sukarnoisme are closed down.
January 7 Indonesia walks out of the United Nations (effective March 1), in protest of Malaysia's admission.
January 17 Aidit gives a speech calling for millions of workers and peasants to be armed to carry out Konfrontasi against Malaysia.
January 29 British Gurkha troops execute secret counterstrike into Indonesian territory on Kalimantan.
Buddhism is recognized as an official religion.
January 31 Three leaders of the Socialist Front in Malaysia are arrested on charges that they were planning to found a "government-in-exile" in Indonesia.
Sukarno, under pressure from PKI, declares ban on the activities of the Murba Party, whose members included Chaerul Saleh and Adam Malik.
February Anti-PKI newspapers are closed down.
February 3 Australia sends combat troops to Sarawak and Sabah.
February Kahar Muzakkar is killed in Sulawesi.
March Leftist naval officers mutiny in Surabaya.
April China repeats its offer of small arms from the previous November.
April 24 Sukarno orders all foreign-owned enterprises to be nationalized.
April 25 Indonesian Army troops attack British camp at Plaman Mapu.
May Gen. Ahmad Yani suggests that "Nasakom" be promoted in the Army.
May 25 Indonesian raiders make an unsuccessful landing in Johore east of Singapore.
May 17 Aidit calls for elections.
Sukarno calls for a "Fifth Force" of armed peasantry to be organized.
Organisasi Papua Merdeka (OPM) is formed by former members of the Dutch-organized colonial militia.
May 29 The "Gilchrist letter": Sukarno accuses Army elements of plotting against him, with cooperation from the British Embassy. (Letter itself generally considered to be a forgery.)
June Discussions on "arming the people" along Maoist lines take place; army sidesteps, air force and navy support it.
June 17 Gen. Ahmad Yani gives a speech at Manado stating that "arming the people" according to the PKI's concept is "unnecessary".
Indonesian-based raiders strike near Kuching, the capital of Sarawak. 5000 Chinese squatters in the area are resettled further away from the border by the Malaysian government.
PKI supporter becomes police commander in Jakarta.
July 19 Gen. Nasution gives a speech rejecting the PKI's concept of "arming the people".
July 20 Sukarno declares that if British raids occur against Indonesian territory, "Singapore will be destroyed".
July 2000 PKI supporters begin receiving military training from Air Force officers at Halim Air Base near Jakarta.
July 30 Demonstration attack the U.S. Consulate in Medan.
August Anti-PKI elements in PNI are purged.
August 5 Sukarno collapses during a public reception.
August 7 Demonstrators occupy the U.S. Consulate in Surabaya for five days.
August 7 Malaysia and Singapore sign papers agreeing to separate into two nations, after several weeks of harsh talk between Lee Kuan Yew of Singapore and Malay members of parliament, including Dr. Mahathir (later president of Malaysia).
August 9 The separation of Malaysia and Singapore is ratified in the Malaysian parliament.
A court in Surabaya issues a death sentence to a Chinese shopkeeper accused of hoarding.
Violence between PNI and NU supporters on one side and PKI supporters on the other heats up in Central and East Java.
Sukarno cuts off ties with IMF, World Bank, Interpol.
August 17 Sukarno gives a speech in Merdeka Square promoting an anti-imperialist alliance with Beijing and other Asian Communist regimes, and warning the Army not to interfere. He also states that he will take the PKI's idea of "arming the people" under consideration, and make the final decision on the matter.
Aidit returns from trip to China, makes August 17 speech calling for millions of workers and peasants to be armed.
August 26 Government of Singapore announces that it has foiled a plot backed by Indonesia and local communists to assassinate Lee Kuan Yew.
September 8 U.S. Consulate in Surabaya is barricaded by PKI demonstrators for two days.
September 11 Embassy of India is attacked and burned by a mob.
September 14 Subandrio and Aidit speak to a PKI rally, urging in sharp language that "thieves and corruptors" be removed from high offices, and that PKI members should be alert for possible trouble.
September 16-19 Air Force Gen. Omar Dhani makes a secret trip to China.
A Chinese doctor examines Sukarno secretly; Sukarno is diagnosed with a serious and worsening kidney disease. The diagnosis is kept secret, but is made known to Aidit, Subandrio, and possibly others, including the Chinese government in Beijing.
Inflation begins to skyrocket; prices for some items increase nearly 50 percent in a week's time.
September 22 Army takes control of the distribution of rice in Jakarta.
September 22 Aidit, in a public speech, states that Sukarno has surrounded himself with men who "have no political support".
September 23 Sukarno declares the total dissolution of the Murba party.
September 25 Sukarno gives a speech stating that Indonesia was entering the "second phase of the revolution", which would be the "implementation of socialism".
September 27 Gen. Ahmad Yani speaks against Nasakom in the army and "arming the people".
September 28 Anti-Communist student leaders ask Gen. Nasution for paramilitary training comparable to what PKI supporters would receive.
September 28 The PKI Minister of Agriculture states that "subversive elements" who were supposedly responsible for the economic crisis should be shot.
September 30 PKI organizations Pemuda Rakyat and Gerwani hold mass demonstrations against the runaway inflation in Jakarta.
September 30 In the evening, Lt.-Col. Untung, head of the Cakrabirawa Regiment (Presidential Guards), other Diponegoro and Brawijaya Division soldiers, and PKI supporters gather at Halim Air Base, with Gen. Omar Dhani and Aidit present. The forces are under the tactical command of Brigadier-General Supardjo, who had recently been commanding guerilla forces in the Konfrontasi against Malaysia. They leave and attempt to take seven top army generals. Nasution escapes by leaping over the wall of his house, his young daughter is shot and Lt. Tendean, his aide, is taken away. Gen. Ahmad Yani is killed at his house, as are two others. Three other generals are taken alive with Lt. Tendean and the bodies of the dead to Halim, where the remaining live captives are murdered and thrown in the well called Lubang Buaya.
Rebel soldiers take Merdeka Square in Jakarta by the Presidential Palace, the radio and TV stations.
October 1 Suharto arrives at Kostrad Headquarters overlooking Merdeka Square, takes emergency control of loyal troops after consulting with available generals.
October 1 At 7:00 A.M., the radio announces that "Movement 30 September" (Gerakan 30 September, or G30S) is pro-Sukarno, anti-corruption, anti-United States and anti-CIA.
Gen. Omar Dhani issues a statement supporting the rebels.
Mutinies in five of seven Diponegoro Division battalions support the rebels, as do Naval officers in Surabaya.
Sukarno goes to Halim, consults with Omar Dhani but not with Aidit.
Suharto offers water to hot soldiers in Merdeka Square, they come to his side. He ignores messages from Sukarno.
Suharo offers the army leadership to Nasution. Nasution refuses.
Suharto announces on radio that six generals are dead, he is in control of the army, and he will suppress the coup attempt and protect Sukarno.
Senior leaders of Nahdlatul Ulama go into hiding. Ansor, the Islamic youth organization associated with Nahdlatul Ulama, releases a statement that it and NU have nothing to do with the coup attempt (despite claims by the rebels that four NU leaders are part of G30S).
October 1 Sukarno leaves for Bogor, Aidit leaves for Yogya, Omar Dhani leaves for Madiun.
October 2 Loyal army units retake Halim Air Base.
Mayor of Surakarta supports the coup.
PKI supporters march in Yogya.
PKI newspaper Harian Rakyat publishes issue in favor of coup.
Military rebels in Central Java retreat to countryside.
Suharto agrees to Sukarno order taking presidential control of army, but only if Suharto has emergency powers to restore order.
Omar Dhani retracts his earlier statement supporting the coup.
October 3 Bodies discovered in Lubang Buaya. Sukarno, in a radio broadcast, claims the Air Force was not involved, and that he went to Halim Air Base of his own free will, simply to have a means of leaving the area if necessary.
October 3 Ansor releases a statement urging its members to help the Army restore order.
October 4 Bodies are removed from Lubang Buaya in the presence of print and TV reporters. Suharto is also present.
Nahdlatul Ulama issues a statement calling for the PKI to be banned, possibly under pressure from Ansor activists. Senior NU leaders do not sign it until the day after or later.
October 5 Public funeral in Jakarta for dead generals.
October 6 Sukarno meets with his cabinet in Bogor, including Subandrio and PKI members Lukman and Njoto, then finally issues a statement denouncing the attempted coup. Njoto is detained by Army officers after the meeting.
October 6 The newspaper "Djalan Rakyat" in Surabaya publishes a letter from Aidit describing the September 30 events as an "internal army affair".
October 8 Mass demonstration in Jakarta (possibly of more than 100,000) demands the dissolution of the PKI. PKI headquarters in Jakarta are burned.
October 13 Ansor holds anti-Communist rallies across Java.
October 14 Suharto begins moving loyal troops into Central Java.
October 14 Antara news agency offices reopen under new, non-PKI management.
October 16 Sukarno dismisses Omar Dhani as head of Air Force. Suharto is appointed commander of the army.
October 18 Nearly a hundred Communists killed in battle with Ansor youths. Beginning of general massacre of PKI supporters in Central and East Java.
October 27 KAMI student activists group is founded.
Inflation runs wild in the general uncertainty.
November 1 Kopkamtib security force established with Suharto at head.
November 11 Fighting between PNI and PKI supporters on Bali begins massacre of Communists on Bali.
November 22 Aidit is captured and executed.
The Assembly (DPR), consisting entirely of members appointed by Sukarno, is purged of PKI members.
Sukarno's 1963 decree is used to ban all books written by members of the PKI and associated organizations.
Muhammadiyah declares jihad against PKI. Sukarno pleads with Muslims to give dead proper burial. Anti-Communist movement spreads throughout Java.
December 10000 PKI supporters have been arrested, many thousand more killed. Anti-Communist massacres are heavy on Bali. The ABRI commander for Aceh announces that Aceh is now free of Communists.
December 13 Major currency adjustment due to inflation: 1000 old rupiah are converted to 1 new rupiah.
Special Military Courts begin holding trials of PKI members.
December 18 Sukarno, in a meeting with Suharto and Nasution, orders them to give him assurances that they will carry out his commands as President. Suharto replies that the Army will carry out Sukarno's orders that are consistent with their mission of protecting national security.
December 31 Shell signs a contract to sell its remaining Indonesian holdings to the government.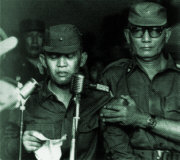 Gen. Nasution gives the eulogy at the funeral for the officers killed on September 30, 1965.
The officers killed in the G30S events:
Gen. Ahmad Yani
Lt.-Gen. Haryono
Lt.-Gen. Parman
Lt.-Gen. Suprapto
Maj.-Gen. Panjaitan
Maj.-Gen. Siswamohardjo
Captain Tendean (aide to Nasution)
Brigadier-Gen. Katamso
Colonel Inf. Mangunwijoto
What really happened in 1965? Nobody knows. There are dozens of theories, some of them with little evidence in their favor. Many of the participants are now dead; from some of them, we only have the confessions they made after being arrested. Under Suharto, the government routinely banned most books and publications about the 1965 events, which makes the situation even more difficult.
Was the army behind it? Certainly not as an organization. Rebel officers such as Untung probably acted without broad support.
Was Sukarno behind it? There is interesting evidence, but answers to this question remain somewhat inconclusive. If Sukarno intended to rid himself of opponents, he failed: the eventual losers were his political allies.
What about Suharto? There is no direct evidence against him. However, rumors persist that Suharto may have heard of the coup plans before September 30th, and so was ready to take advantage of the disorder beforehand.
Was the PKI behind it? The PKI had made two hopeless attempts to take power before, in 1926 and again at Madiun in 1948. Is it possible that rebellious, undisciplined officers planned the coup, and then the PKI announced its support?
The coup plotters may have been motivated by President Sukarno's illnesses--assuming that a weaker president meant that the government could be taken more easily. This sort of thinking may have led them to overestimate their own strength. It might also be possible that Sukarno's worsening health caused the coup plotters to act too soon.
Were foreign powers involved? There was heavy involvement by China in Indonesian politics in 1965. The Chinese government in Beijing seemed to already know the names of the generals who had been targeted before the announcements on the middle of October 1--and the Chinese list of names included Nasution as a victim, even though he had escaped. Long after the coup in Jakarta was suppressed, on October 19, Chinese news stories expressed support for it.
Both the United States and the Soviet Union were supplying aid either directly to the government or to their friends in ABRI. Some official Soviet news stories were critical of the coup events, however. The West German goverment supplied secret aid to anti-communists. We know today, too, that the CIA gave lists of Indonesian communists to the Indonesian military during the purges that came after. But did foreign powers help plan G30S? Probably not, but again, we do not know.
It is perhaps most possible that whatever secret plans had been made did not go exactly as the planners intended.
By the end of 1965, a huge wave of popular violence against the PKI had started. In West and Central Java, the army began rounding up Communists, but in many villages, people took the law into their own hands. In some areas, such as East Java or Aceh, Islamic groups (such as the Nahdlatul Ulama youth group Ansor) fought to wipe out communists. However, there was a heavy anti-communist purge on Bali as well. Thousands were sent to prison, and over a year's time, perhaps more than 250,000 were dead. ABRI did not commit all of the killings, but ABRI officers did arm and train the student groups that committed killings, and also did not act to stop the violence until the PKI had been wiped out.
Suharto's main supporters in ABRI were Brig. Gen. Kemal Idris, Col. Sarwo Edhie Wibowo, and Maj. Gen. Dharsono.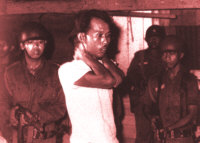 A suspected communist is questioned by soldiers, late 1965.